Messengers are conquering communication between companies and customers. WhatsApp offers two solutions for business use: the WhatsApp Business App and the WhatsApp API.
In this article you will learn:
what WhatsApp Business is,
how the two business solutions differ,
which WhatsApp Business functions are available
and how to use WhatsApp in a DSGVO-compliant manner in your company.
What is WhatsApp Business?
WhatsApp Business is a messaging solution for small businesses and can be used free of charge. Via WhatsApp Business, businesses can use the messenger for customer communication, presenting products or services and answering questions.
With WhatsApp Business, the messenger offers a solution that can also be used for commercial purposes and is tailored to small companies. Although the founders originally intended the messenger exclusively for private communication, WhatsApp is increasingly opening up commercial customer communication. The background to this is the enormous potential that communication via Messenger brings with it.
Almost everyone knows and uses the WhatsApp messenger privately - 80 to 90 % of all smartphone owners have the messaging service installed on their mobile phones. 70 % of all consumers prefer to chat with companies. They want to communicate with a company via the channels they already regularly use privately anyway. To keep in touch with friends and family. Therefore, it is very important for small and large companies to offer their customers this form of communication in the future.
The WhatsApp Business App hardly differs visually from the private version of the messenger. The business solution is installed with just a few clicks and is available for both iOS and Android.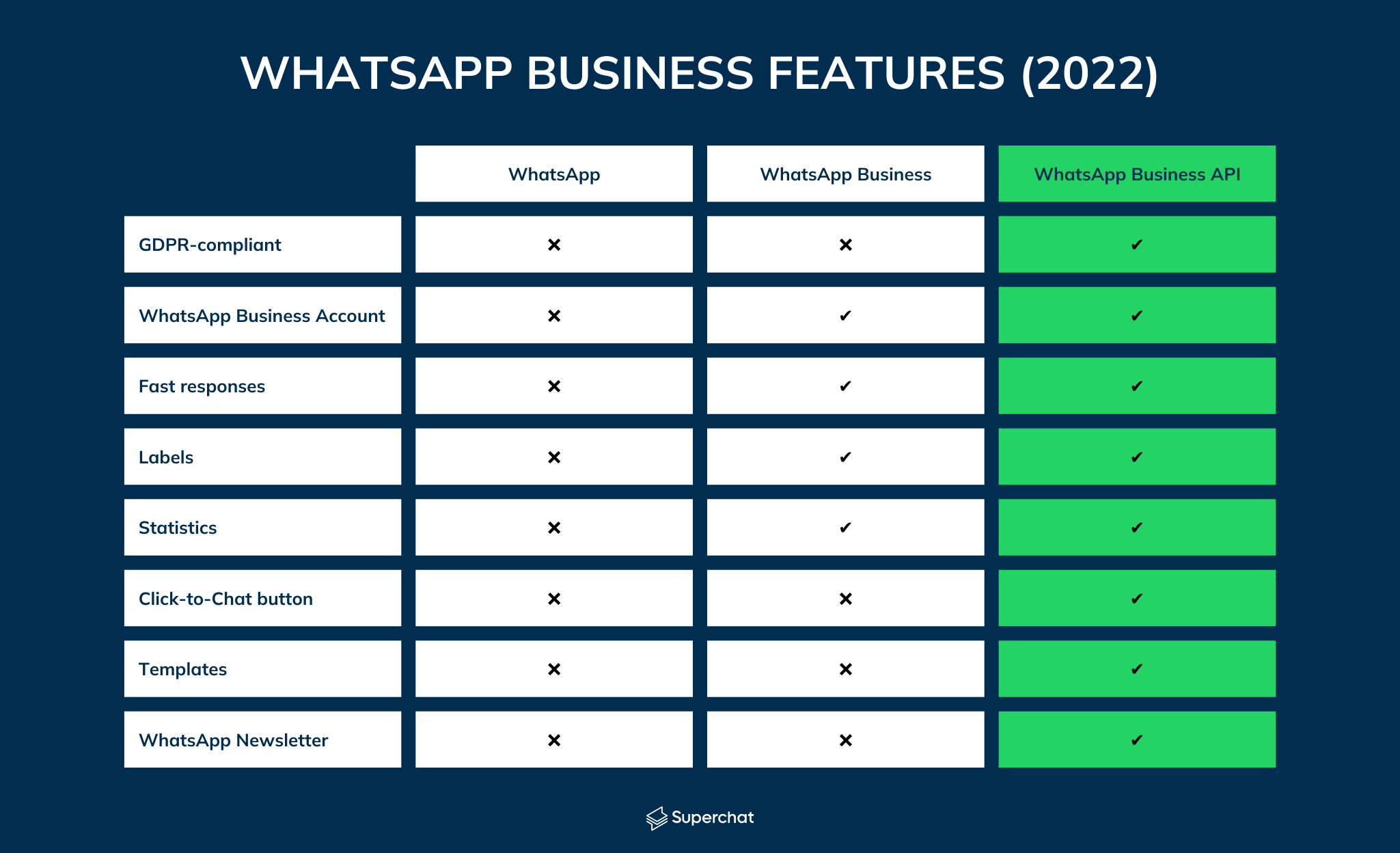 WhatsApp Business App vs. WhatsApp Business API
Both solutions are often referred to as WhatsApp Business. However, the two options differ in many aspects, especially in terms of costs, functions and the topic of data protection.
How much does WhatsApp Business cost?
The WhatsApp Business App is designed for small businesses and has the same user interface as the private version of WhatsApp. The WhatsApp Business App can be downloaded free of charge for iOS and Android and offers businesses useful functions for customer communication.
The WhatsApp API is only available via an interface and does not have its own user interface. Unlike the WhatsApp Business App, the API is not free of charge and is only accessible via a third-party provider.
Is WhatsApp Business safe?
The regular WhatsApp Business app is not GDPR-compliant. Due to the processing and sharing of WhatsApp customer data, there are some data protection issues for entrepreneurs who want to use WhatsApp for customer communication.
The main problem is that there is no clear opt-in procedure for customers. This can quickly lead to warnings. The customer must give you consent before you are allowed to communicate with each other via WhatsApp. We explain how you can still use WhatsApp in a DSGVO-compliant manner further down in the article.
Use WhatsApp Business with multiple people at the same time
UsingWhatsApp with several employees at the same time is not possible with a normal WhatsApp Business account. Nowadays, most companies have a "WhatsApp representative" who has to take care of all the messages. It is currently not possible to work with several users behind one WhatsApp number through the conventional WhatsApp Business app.
How you can still manage to work with several employees and on different devices in WhatsApp Business is explained further down in the article. The solution is the WhatsApp Business API together with the Superchat software.
The access to the WhatsApp Business API with Superchat
Book demo
Important WhatsApp Business Features
With WhatsApp Business, you can send and receive text messages, pictures and videos as usual. There are also a few other useful WhatsApp Business features and benefits for businesses:
Company profile
Quick news
Automatic answers
News statistics
Chat labels
Set up company profile
Unlike the traditional app, WhatsApp Business allows you to set up a company profile and add important information about opening hours, email and website. In addition, it is possible to add a logo to further customise your business profile.
Save time with quick messages
If your customers and interested parties sometimes have the same questions over and over again, this function is particularly useful. Create a suitable template for each frequent question, which you can then send to your user as a text module.
For example, if your customer asks you a frequently recurring question about returning a product, enter the saved term with a slash (for example, "/return shipping"). The text module appears and you can send the message directly without having to type the same text over and over again.
Send automatic replies
Of course, you cannot reply to a message at any time of the day or night. However, to ensure that your customer always receives a quick reply, you can, for example, set an automatic message dispatch as a greeting.
In addition, this function also allows you to set up a classic out-of-office note, for which you can even create a schedule. This makes it possible for your customer to receive a short out-of-office note with information on when you will be personally available again.
Chat label for more order
With WhatsApp Business, customers can be assigned to a specific colour category. This way you know immediately which user is a new customer, which one has already paid or whose order has already been successfully completed.
Get access to the WhatsApp API with Superchat
If you want to communicate with your customers via WhatsApp in a legally compliant manner without any doubt, the only GDPR-compliant option is the WhatsApp Business API. Superchat offers you software that enables you to communicate with customers in a GDPR-compliant manner. This also applies to messages that are proactively sent from companies to contacts.
To enable your customers to reach you even faster via WhatsApp, we recommend the use of a WhatsApp QR code. With our WhatsApp Click-to-Chat Link Generator, you can easily create your WhatsApp QR code, which you can subsequently integrate wherever you want your customers to be aware of you.
The Superchat team will set up your account 100% compliant with the GDPR and train you and your entire staff on how to use WhatsApp correctly in customer communication. With Superchat, you can use WhatsApp 100% GDPR-compliant, with multiple users and end devices for communication with your customers. In this way, you offer your target group a modern and uncomplicated customer journey.
Our team is at your side right from the start, discusses your personal use case with you and supports you during implementation. Would you like to use Superchat? Do you have any questions about our product? Contact us simply and without obligation via WhatsApp, or write us an e-mail at hello@superchat.de. We look forward to hearing from you!