You want to use WhatsApp Business and receive a message that your account is blocked for WhatsApp use? Read here about the reasons why WhatsApp numbers are blocked and what you can do about it.
What does a blocked WhatsApp Business number mean?
WhatsApp Business can block numbers for various reasons, temporarily or permanently. A temporarily blocked account should be unlocked within a 24-hour window. If the account has been permanently blocked, WhatsApp support should be contacted. A WhatsApp account block can affect both WhatsApp business users and private users.
In most cases, there is a violation of WhatsApp's terms of use and policies. These include, for example:
Sending false messages or spam
Use of approved third-party apps
Dissemination of unlawful messages in groups
Use of suspicious group names
Third-party apps that are used to automate messages, for example, are not always approved by WhatsApp. The use of these apps may lead to the blocking of the WhatsApp account. The same applies to the mass sending or forwarding of messages with the same content.
It is not known how many messages WhatsApp sends before it marks a message as spam. There is also a threat of blocking if illegal, unlawful, offensive or racist content is disseminated. This is especially the case if WhatsApp users report the corresponding account to WhatsApp.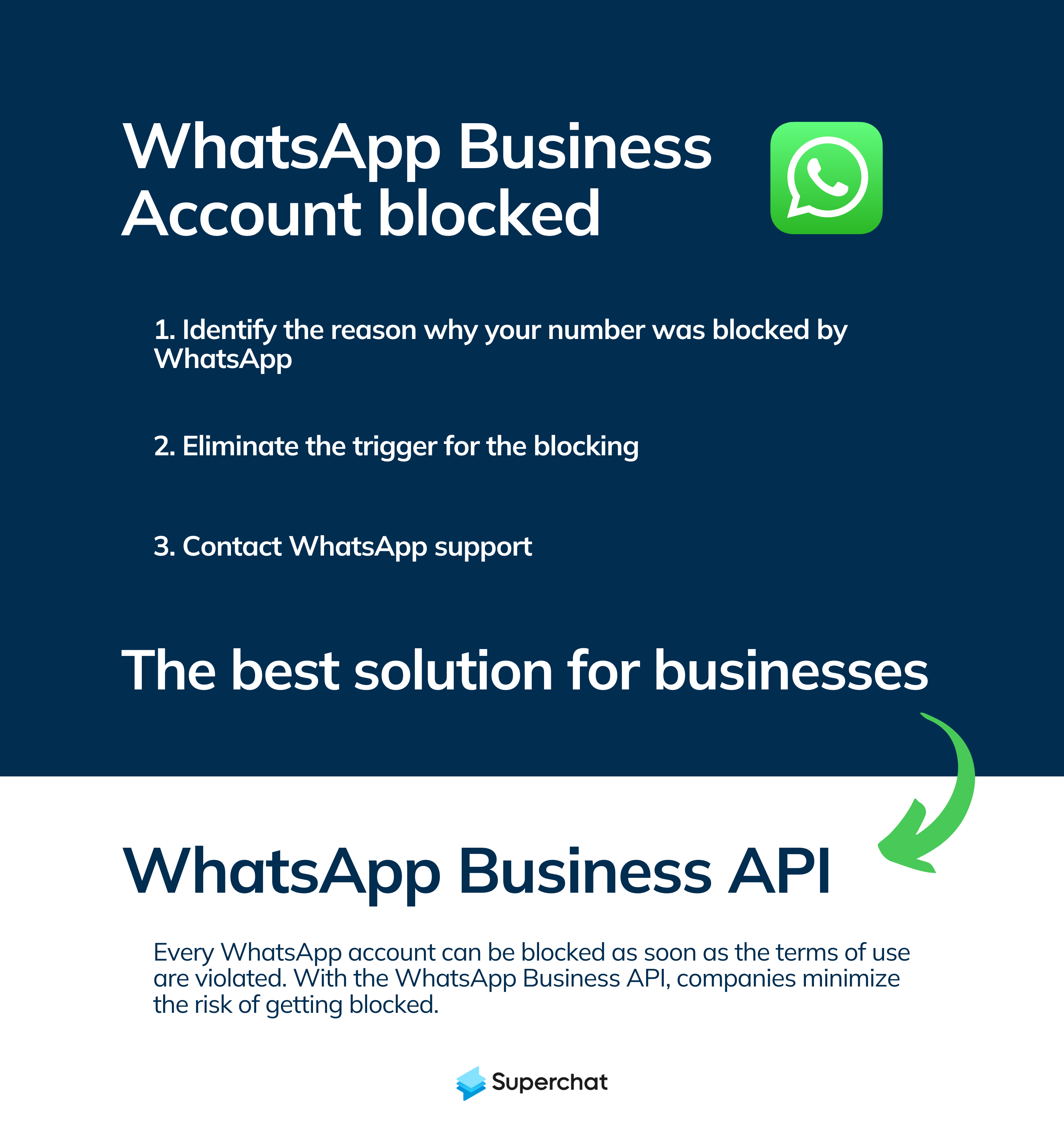 How to unblock your WhatsApp Business account
If your WhatsApp number has been temporarily blocked, the account should be unlocked again after 24 hours. If your number has been permanently blocked or you cannot access your account even after the 24, you must take some steps to be able to use the messenger again. There are various ways to unblock your WhatsApp Business account. In principle, the process is the same for private and WhatsApp Business users.
1. Identify the reason why your number was blocked by WhatsApp
WhatsApp does not block an account without reason. Presumably, one of the guidelines mentioned above has been violated.
2. Eliminate the reason why your WhatsApp account is blocked
For example, if unauthorised third-party apps are being used, they should be removed before you apply to unlock your WhatsApp account.
3. Get in touch with the WhatsApp support
To unblock a permanently blocked WhatsApp number, you must contact WhatsApp support. Explain your problem to the WhatsApp support staff. Then wait for WhatsApp to unblock the account.
The solution for entrepreneurs: WhatsApp Business API
Theoretically, every WhatsApp account can be blocked as soon as the terms of use are violated. With the WhatsApp Business API and a reputable provider, you minimise the risk of this problem. With the WhatsApp Business API, companies can use the messenger in a DSGVO-compliant and secure manner for customer communication. Unlike the WhatsApp Business App, the API has no mobile user interface. It is provided by reputable third-party providers such as Superchat.
Who can use the WhatsApp Business API?
Theoretically, every company can use the WhatsApp Business API via a provider. Especially companies whose target group uses WhatsApp benefit from the API Business solution. Here, too, the WhatsApp guidelines and terms of use must be adhered to. Not all industries can use WhatsApp Business. These include:
Illegal products and services
Drugs and medication
Alcohol, tobacco products and accessories
Medical and health products
Weapons, ammunition or explosives
etc.
A full list and explanation of WhatsApp's trading policies can be found here.
Access the WhatsApp API with Superchat
With Superchat, you benefit from all the advantages of the WhatsApp Business API. Avoid the risk of a blocked WhatsApp account and use the WhatsApp Business API right from the start.
The advantages of the WhatsApp Business API via Superchat:
Official WhatsApp Business Profile with important company information
Data protection compliant use of WhatsApp Business
Access across multiple devices and with multiple users
Automated answers for common questions and message templates
Fast and uncomplicated responses to customer messages
Our team is at your side from the very beginning, from the first contact to verification via WhatsApp. Would you like to use Superchat? Do you have any questions about our product? Contact us easily and without obligation via WhatsApp, or write us an email at hello@superchat.de.