Porsche Baden-Baden is one of 90 Porsche Centers in Germany. In order to meet increased demands, the Porsche Centre Baden-Baden is focusing on even greater customer orientation. From internal processes to communication, the focus is placed on the well-being of customers. Managing Director Christian Schuder saw a particular need for improvement in customer communication.
We want to be reachable for our customers on all channels.

Christian Schuder, Porsche Baden-Baden
The expectations of the target group are high and the customer experience must be shaped successfully from the first contact until long after the purchase has been made. This is not only the case on site or on classic communication channels such as e-mail.
A messaging software must meet the following requirements in particular:
Unified inbox that combines the most important channels
GDPR-compliant use of messengers such as WhatsApp
No live chat, but asynchronous communication approach
Live chat? Not an appropriate alternative for Porsche Zentrum Baden-Baden.
If several channels are managed simultaneously by different employees, communication can become opaque. Unanswered messages or long response times have a negative impact on customer satisfaction.
A live chat is out of the question for the team at Porsche Baden-Baden, as it cannot be guaranteed that customers can be attended to in real time. The expectations of a live chat are very high and synchronous communication is not realistic. First and foremost, because the quality of communication is a top priority, following the principle "better no live chat than an unprofessionally managed live chat".
For this reason, the Superchat web chat is available to website users. This allows interested individuals and customers to choose their preferred communication channel. It is particularly easy to use on mobile devices. Another advantage over live chat: customer messages are preserved even after the webchat is closed, on both sides.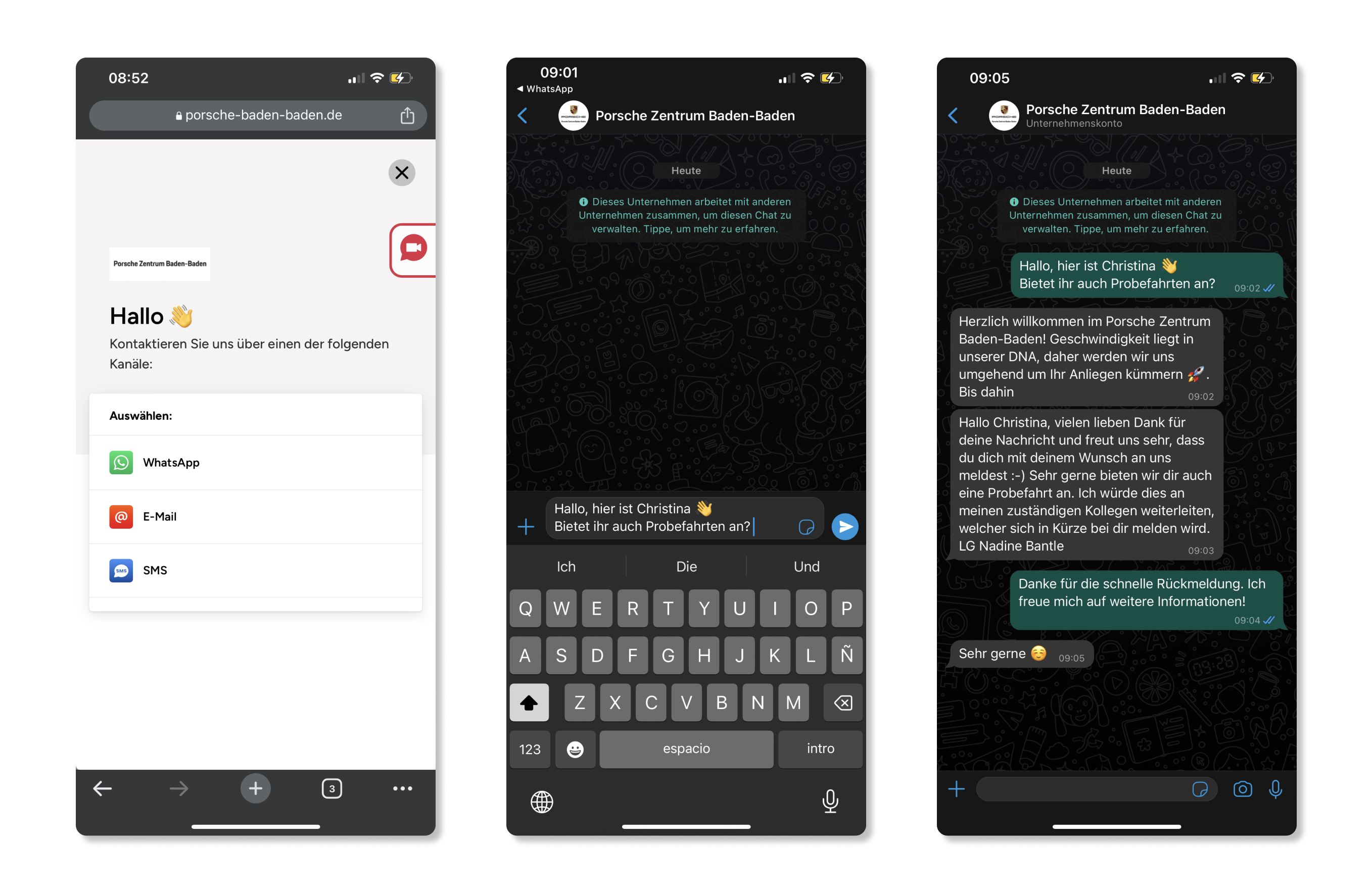 Christian Schuder and his team are therefore emphasizing an asynchronous way of communicating. The messaging suite combines the most important channels, including WhatsApp, SMS and email. Several employees take care of customer communication here in a central hub.
Labels ensure a clear inbox
To keep communication organized, incoming messages are assigned to the relevant contact person. In addition, conversations are divided into different categories with labels to ensure additional clarity. These include for example labels for service requests, sales opportunities, callbacks and complaints.
Another important feature is the creation of message templates, such as for welcome messages or privacy topics. These are created, enhanced with text blocks, and ready to send with just a few clicks.
Our communication has become more efficient, easier and more transparent since the implementation of Superchat. Incoming customer requests are directly assigned to the right person, labeled and processed.

Christian Schuder, Porsche Baden-Baden
Apart from customer communication, the issue of online reviews plays an important role. After all, reviews on Google and the like have an impact on a company's reputation and customers take notice of what other customers have to say.
With the review tool from Superchat, a simple and time-saving process was integrated to collect new and authentic customer reviews. After a successful purchase or a positive experience, customers receive a review invitation via their preferred communication channel.
Recipients then arrive directly on the Google profile of Porsche Baden-Baden via a link and can leave a review there. Employees are notified of incoming reviews and can respond accordingly.
For us, no other solution provider came into question. Apart from the functions offered, we were particularly impressed by the user-friendliness and simplicity of the software.

Christian Schuder, Porsche Baden-Baden
With Superchat, the company offers a modern, digital and seamless customer experience for a sophisticated target audience, from the first contact to well beyond the purchase.
This is how Porsche Zentrum Baden-Baden benefits from Superchat:
Transparent customer communication, bundled in a smart platform.
GDPR-compliant use of messenger services such as WhatsApp.
Simple initiation of conversations for website users via Superchat webchat.
Improved processes to generate new customer reviews.
Want to check the platform out on your own?
Book demo