Dogcare24 is an expert in the field of dog health insurance. With the products of the Cologne-based insurance company, dogs are well covered for a variety of claims.
The target group of dogcare24 is versatile. The need for dog health insurance exists in every age group.
Consequently, the use of WhatsApp makes sense. The messenger is used in all demographic groups.
This is how dogcare24 benefits from Superchat
Automatic sending of WhatsApp messages based on business events in HubSpot.
GDPR-compliant use of WhatsApp Business.
Use of WhatsApp Business with multiple users and devices simultaneously.
Here's how dogcare24 uses Superchat and HubSpot to automate messaging processes.
Superchat, with its own Zapier integration, offers the ability to connect WhatsApp Business with a wide range of CRM systems, marketing automation tools and eCommerce applications.
For the purpose of automation, three elements are important to dogcare24.
HubSpot represents the central CRM system where customer data is stored. Business events in the system are the starting point for automations.
Superchat is the complementary messaging platform through which dogcare24 sends and receives WhatsApp messages. Only with messaging solution providers like Superchat can WhatsApp Business be used in a DSGVO-compliant manner.
Zapier is used to connect both systems and automation processes can be created in the associated editor.
Here, Dogcare24 sets corresponding triggers in the form of events in HubSpot. This is followed by the automatic sending of WhatsApp messages with Superchat.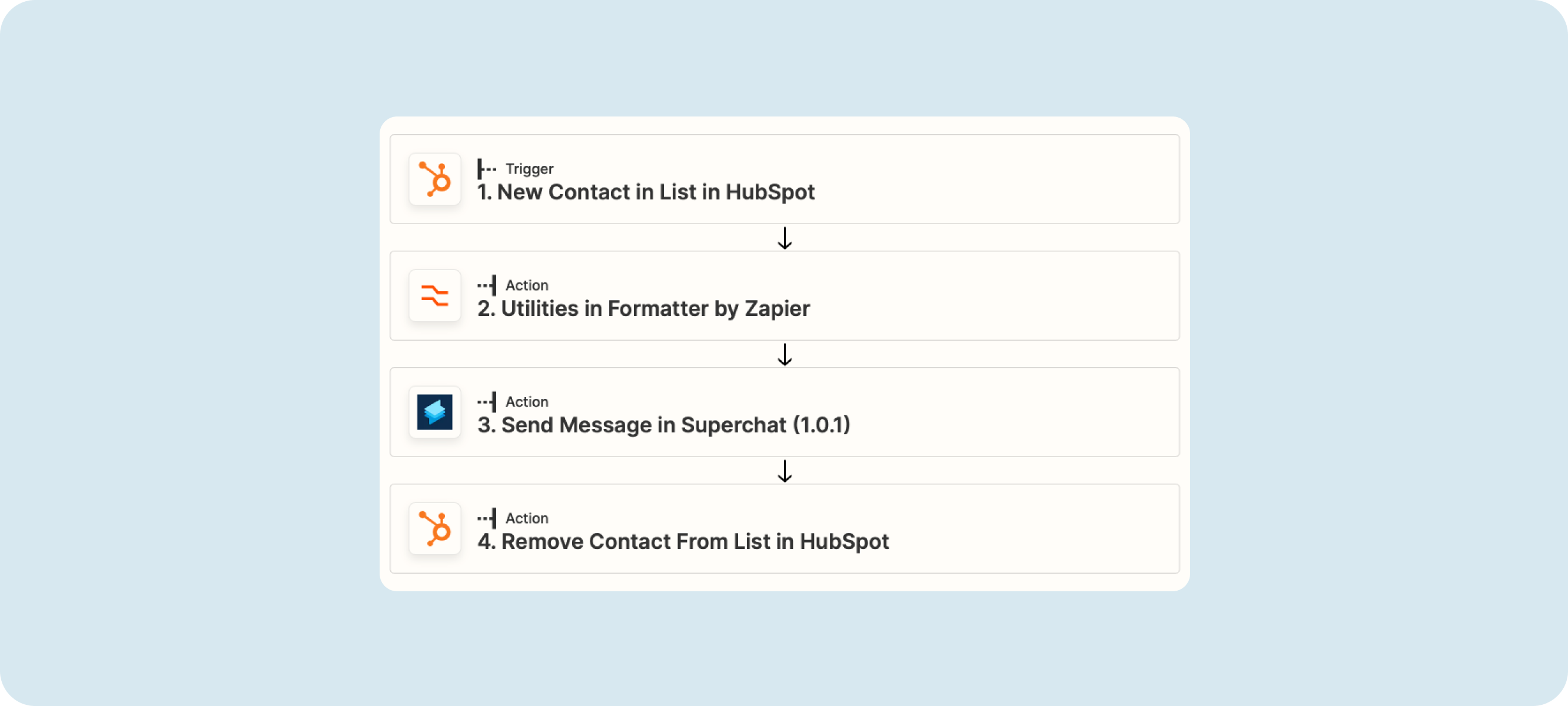 Automated messaging process in detail
Dogcare24 collects leads through advertising on Facebook, among other things. These contacts are contacted manually by company employees in the first step.
If they are not available, dogcare24 resorts to automated messaging.
Employees mark the corresponding lead in the CRM system, which in turn is moved to a dedicated list by HubSpot's own automation feature.
Adding them to this contact list serves as a trigger for automatically sending a WhatsApp message via Superchat.
Good to know 💡
Zapier offers several triggers for HubSpot. Creating new contacts or updating data points are just one possibility. You can find more triggers and ideas for your own automations here.
The lead is removed from the list in the last step. This process is repeated two more times if no contact has been made by then. Accordingly, dogcare24 uses a total of three different automations in Zapier.
Personalized messages with WhatsApp templates
For keeping in touch, dogcare24 uses WhatsApp message templates. These can be created in a few minutes with Superchat and submitted to WhatsApp for review.
Generally, you can only write to contacts initially via the messenger with WhatsApp templates.
The corresponding template and the free text modules it contains are added for automation and filled with data points from HubSpot each time they are sent automatically.
In this way, dogcare24 can write to leads in a personalized way, for example, based on the first name stored in HubSpot.
Want to explore Superchat on your own?
Sie möchten Superchat selbst entdecken? Erstellen Sie jetzt Ihren kostenlosen Account und erkunden Sie die Messaging Plattform von Superchat.

Marketing Manager, Superchat
Fabian is Marketing Manager at Superchat. His main topics include B2B marketing and corporate communications.