Superchat Newsletter - Register now for free 🚀
After a short break, the WhatsApp Newsletter celebrated its comeback in June 2021. It comes with a new name, new features and new guidelines.
Before the ban in 2019, there were few to no rules when sending newsletter messages. Although the function was in a legal grey area, the WhatsApp newsletter was part of everyday life for numerous companies. As WhatsApp was never intended for mass messaging, the messenger stopped offering them.
Meta, however, recognised the potential through companies and expanded its offer for commercial use. With Promotional Messages, companies now have the opportunity to proactively contact customers again.
What are newsletters on WhatsApp?
WhatsApp newsletters are also called Promotional Messages or Marketing Notifications. These messages are sent proactively by companies to contacts and contain, for example, updates, information or offers.
Some of the potential use cases for marketing messages via WhatsApp include:
Product recommendations
Reactivation of customers
News and updates
Special offers (e.g. Black Friday)
So, the WhatsApp newsletter works similarly to a traditional email newsletter. However, the WhatsApp newsletter does not get lost in overcrowded email inboxes but arrives exactly where it is seen.
Is the WhatsApp newsletter GDPR-compliant?
There is no getting around the General Data Protection Regulation when it comes to customer communication and marketing. After all, the regulations apply to all companies within the European Union.
The good news: The WhatsApp API and the sending of the WhatsApp newsletter are GDPR-compliant.
The most secure solution for sending marketing messages via WhatsApp is the WhatsApp Business API. The API prevents WhatsApp from accessing the address book of the smartphone and all messages are sent encrypted as usual. In addition, contacts must agree in advance to receive marketing notifications. This consent is given via an opt-in, which refers to all relevant data protection regulations. You can find out more about this further down in the guide.
WhatsApp Newsletter vs. Broadcast
A WhatsApp broadcast can be started by private and WhatsApp Business App users. Via a broadcast list, messages are sent to several contacts simultaneously.
While the WhatsApp newsletter allows up to 1000 recipients, WhatsApp limits the broadcast lists to a maximum of 256 contacts. In addition, when sending a broadcast message, customers must have saved the number of the company in their address book for the message to reach them.
WhatsApp Marketing: The Newsletter of the Future?
The way we communicate with each other has changed a lot in recent years and decades. Most people rarely pick up the phone anymore and messengers like WhatsApp are increasingly displacing traditional communication channels.
WhatsApp has worldwide over 2 billion active users and more than 100 billion messages are transmitted worldwide every day. The numbers speak for themselves.
Email indeed continues to be an important tool in communication, especially in the business environment. But WhatsApp is also conquering the market here.
More than 500 million companies already rely on WhatsApp's business solutions. The messenger is particularly convincing with an opening rate of over 90 percent.
| | E-Mail | WhatsApp |
| --- | --- | --- |
| Opening rate | ca. 20 % | over 90 % |
| Conversion rate | ca. 1,5 % | over 5 % |
| ⌀ Response time | ca. 90 minutes | ca. 90 seconds |
In 2022, around 65% of messages sent by customers to businesses were processed via WhatsApp. This figure refers to companies that used Superchat in 2022.
It is also clear to see that the popularity of the WhatsApp newsletter increased significantly at the end of 2022. Companies use the messenger, for example, to inform customers about important promotions such as Black Friday. Detailed data on the use of the WhatsApp API and Superchat campaigns can be found in the Messaging Report 2023.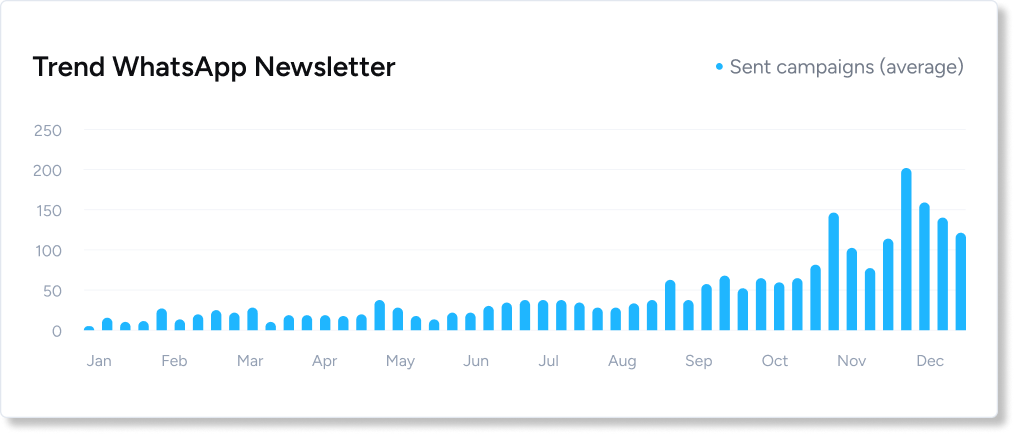 Superchat Messaging Report 2023
How important are Messaging and WhatsApp for companies?
Download here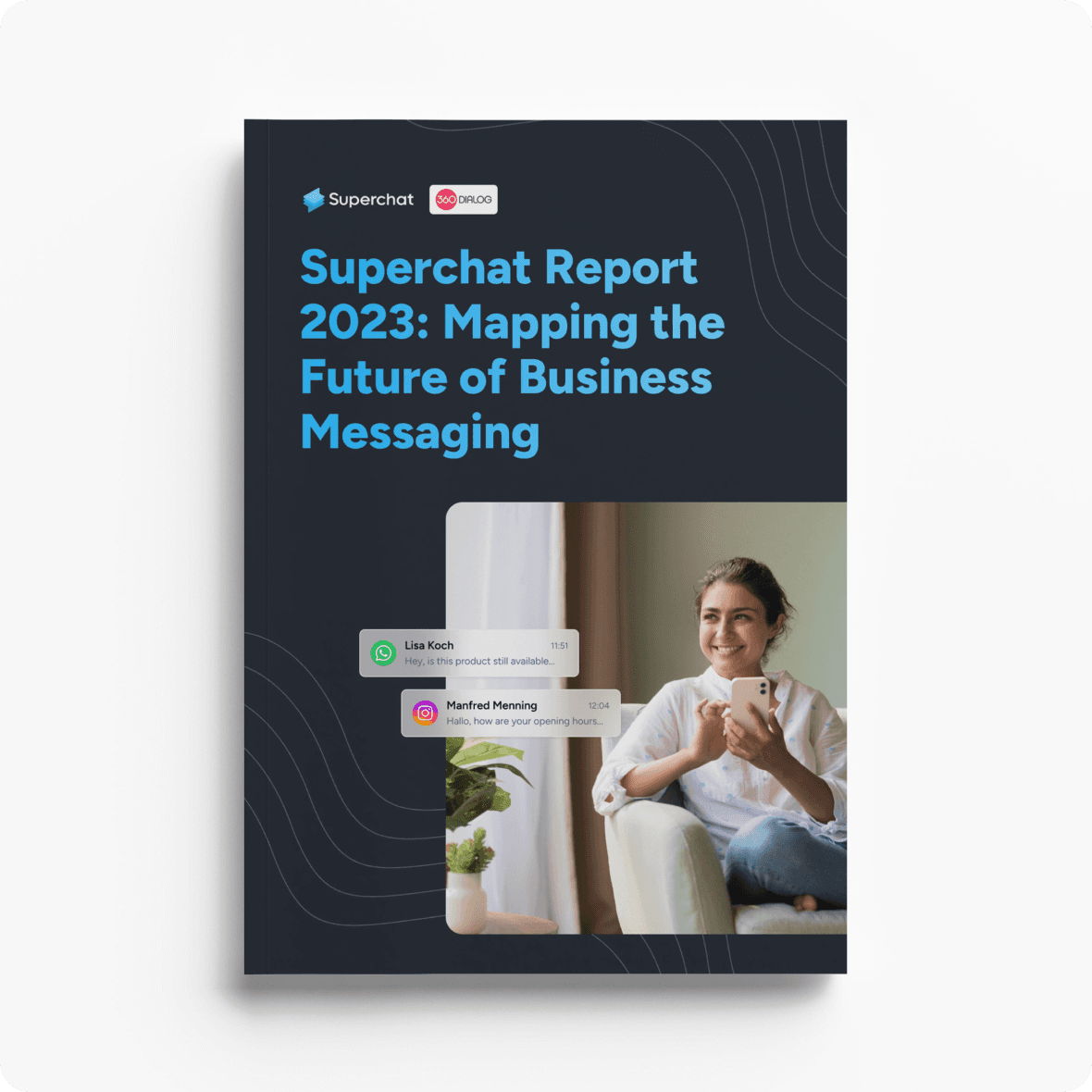 Customers want to contact companies via chat. Why? Because communication is simple, fast and intuitive.
Questions can be answered promptly, order updates are easy to find and, in the best case, orders can even be placed directly via WhatsApp. All of this offers customers an even simpler and more intuitive experience.
WhatsApp newsletter advantages at a glance
Messages no longer end up in customers' spam folders.
Simple creation with just a few clicks, without time-consuming designs.
The opening rate of WhatsApp messages is over 90 per cent.
The WhatsApp newsletter is displayed identically on all devices.
Modern and high-quality user experience.
Calculate WhatsApp newsletter sales now 💰
How to create a WhatsApp Newsletter
WhatsApp marketing campaigns are ready to send within a few moments. Before sending, however, some requirements must be met:
Sending is only done via the WhatsApp Business API.
Opt-in of contacts is mandatory.
Newsletters can only be used via approved templates.
In the EU and the UK, there are various providers through which businesses can access the WhatsApp API. However, a WhatsApp campaign function is not always included in the scope of services.
Regardless of whether you use Superchat or another provider, the creation of a WhatsApp newsletter campaign most likely looks similar:
Define goals and content for the newsletter.
Create a WhatsApp template and wait for approval.
Create the campaign, select subscribers and send.
Evaluate and analyse the WhatsApp newsletter.
The goals and contents of WhatsApp newsletters are individual. However, typical goals include generating sales or increasing customer satisfaction.
Furthermore, the design of the newsletter has a great influence on the success of the campaign. WhatsApp templates can be supplemented with other elements besides text. Creative messages that include media, emojis or buttons stand out and stay in the recipients' minds.
Tip 💡
Use building blocks! Personalised content and personal wording are usually best received by customers.
Once the template is created and approved, the WhatsApp newsletter is ready to be sent. The marketing notification must be only sent to contacts with the appropriate opt-in.
After sending, Superchat offers the possibility to evaluate the newsletter campaign. You can see how many contacts received the message, how often the newsletter was opened and how many responses you received.
WhatsApp Business Newsletter: Which image format?
Apart from the text, the visual design plays an important role. Images are most often sent to enhance the newsletter or to highlight certain information and products. The following overview shows which image formats make sense:
| Format | Pro | Contra |
| --- | --- | --- |
| Square | Safe option and is ideally displayed in the preview | Takes a lot of space in the message |
| Portrait format | Suitable when image (e.g. specific product) should be in focus | Takes a lot of space in the message |
| Landscape format | Is always displayed completely in the preview and the message | Not suitable when image should be in focus |
WhatsApp Marketing Newsletter: Only with opt-in
To send WhatsApp newsletter campaigns, users must give their consent in advance. This is a basic requirement to be able to use this function at all.
If a newsletter is sent via WhatsApp without prior consent, this violates the WhatsApp guidelines and the General Data Protection Regulation. In the event of a violation, the account may be blocked and, in the worst case, there may be legal consequences.
What is an opt-in and why is it important?
So before sending a newsletter, it must be clear to which people the message may be sent at all. Are you allowed to contact your customers via WhatsApp at all?
If it is a matter of pure communication via WhatsApp in general, a normal declaration of consent is sufficient. A customer writes to the company via the website, for example, and then the company points out the applicable data protection regulations and the use of WhatsApp Business via Superchat, for example.
As soon as it is a matter of sending advertising, advertising consent is required. This applies not only to the WhatsApp newsletter but also to other formats such as email newsletters. In this case, the opt-in must explicitly refer to the receipt of marketing content.
Apart from this, there is the option to obtain a double opt-in from subscribers. Recipients receive a reference to the data protection provisions or advertising consent after contacting the company and must confirm this again afterwards via a website link. As a rule, however, a simple opt-in is sufficient.
The WhatsApp newsletter opt-in must meet these requirements
For the consent of the contacts to also meet the requirements of WhatsApp or Meta, the following requirements must be met:
It must be clear that the person consents to receive the messages.
The name of the company must be recognisable.
Companies must comply with applicable rights (GDPR).
It is also advisable to communicate what kind of messages are involved. It should be clear what content the person is signing up for and how often this content is sent.
Where there is an opt-in, there must also be an opt-out. How users can unsubscribe from the campaign can be communicated directly at sign-up, in the newsletter itself or on the website.
Tip 💡
The opt-in and opt-out should focus on the user experience. Both should be as simple and intuitive as possible for customers.
Tips to collect new newsletter subscribers
Many paths lead to a successful WhatsApp campaign. New subscribers and opt-ins can be generated through various methods.
Subscription via the website
A popular method is a pop-up on your website. This can be displayed on certain product pages or categories to generate targeted newsletter subscribers. Many companies offer a discount for new subscribers here as an additional incentive. Here, too, it is important to point out applicable data protection regulations.
Apart from that, you can obtain the declaration of consent directly via WhatsApp. This works, for example, via so-called keywords.
Opt-in via WhatsApp Business
If a prospect or a customer wants to sign up for the WhatsApp newsletter, he or she simply has to send the keyword, e.g. "Subscribe", to the company account. The person will then receive a confirmation of the subscription to the newsletter.
​​ℹ️ Note
Unsubscribing can also be managed via a keyword. Simply inform the recipients that the keyword "unsubscribe" will stop sending messages.
The best WhatsApp Newsletters
WhatsApp Newsletter Example #1: C1 Kosmetik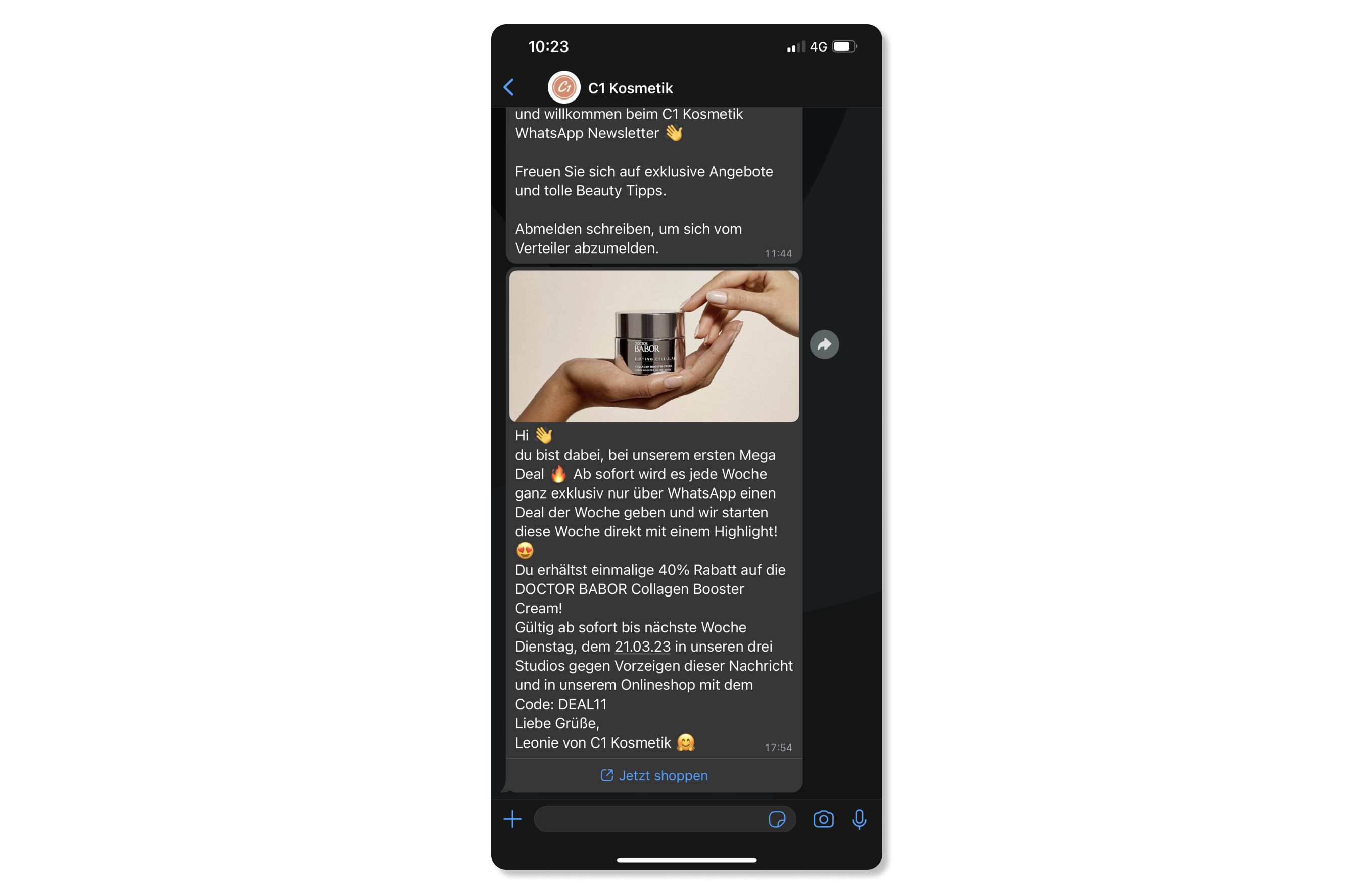 That's why we think the newsletter is great: Offering added value to the target group is really important for C1 Kosmetik. Subscribers of the WhatsApp newsletter receive exclusive offers and discounts that are only advertised via this channel. Customers benefit in the online store, as well as in the cosmetics studios on site.
The cosmetics studio from Munich also relies on a combination of offline and online for newsletter registration. In the stores, customers can register via a QR code for the newsletter. Online, registration works via a WhatsApp link that leads users directly to a chat, thus enabling a seamless customer experience.
WhatsApp Newsletter Example #2: Vanezia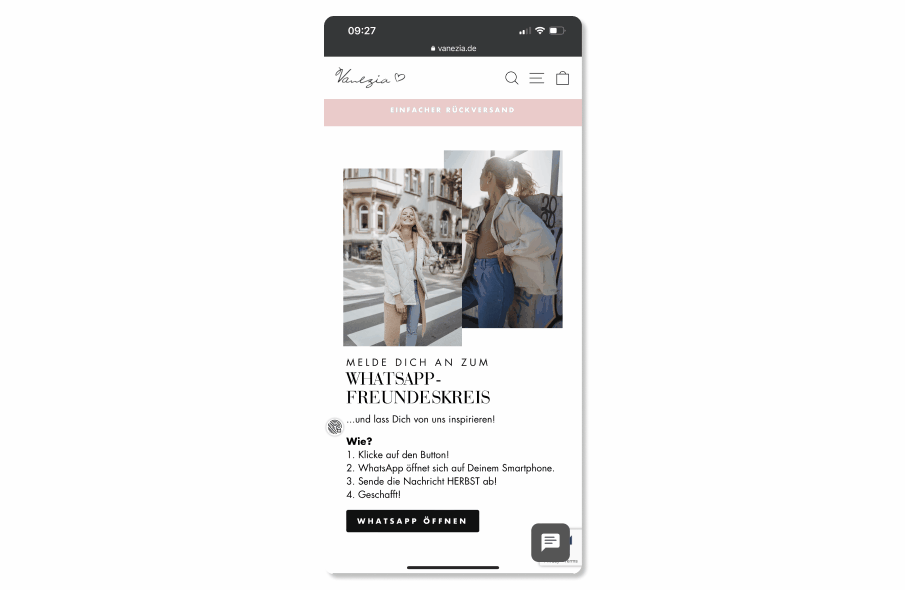 That's why we think the newsletter is great: We particularly like the fact that Vanezia doesn't just send out a newsletter, but creates a community. The company invites customers to join its "WhatsApp circle of friends" by signing up, thus creating a certain sense of community.
Registration takes place via a WhatsApp link or QR code, which subsequently opens the chat with the company account. Here they point out as well, how users can unsubscribe from the newsletter or leave the "WhatsApp circle of friends".
WhatsApp Newsletter Example #3: Fayke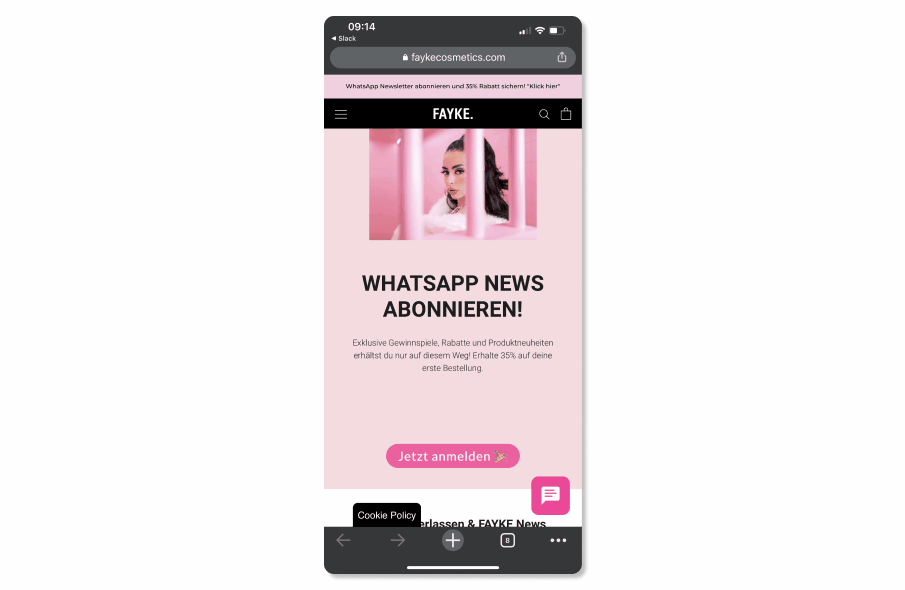 That's why we think the newsletter is great: Just like Mein Schiffberater, FAYKE Cosmetics relies on the campaign function of Superchat. The company points out the WhatsApp newsletter in various places on the website and collects new subscribers this way. As an incentive, prospective subscribers are offered a 35 percent discount.
The website popup fulfills the necessary requirements for a privacy-compliant opt-in and with the registration users are also informed about how they can unsubscribe from the WhatsApp newsletter.
WhatsApp Newsletter Example #4: REWE Angebote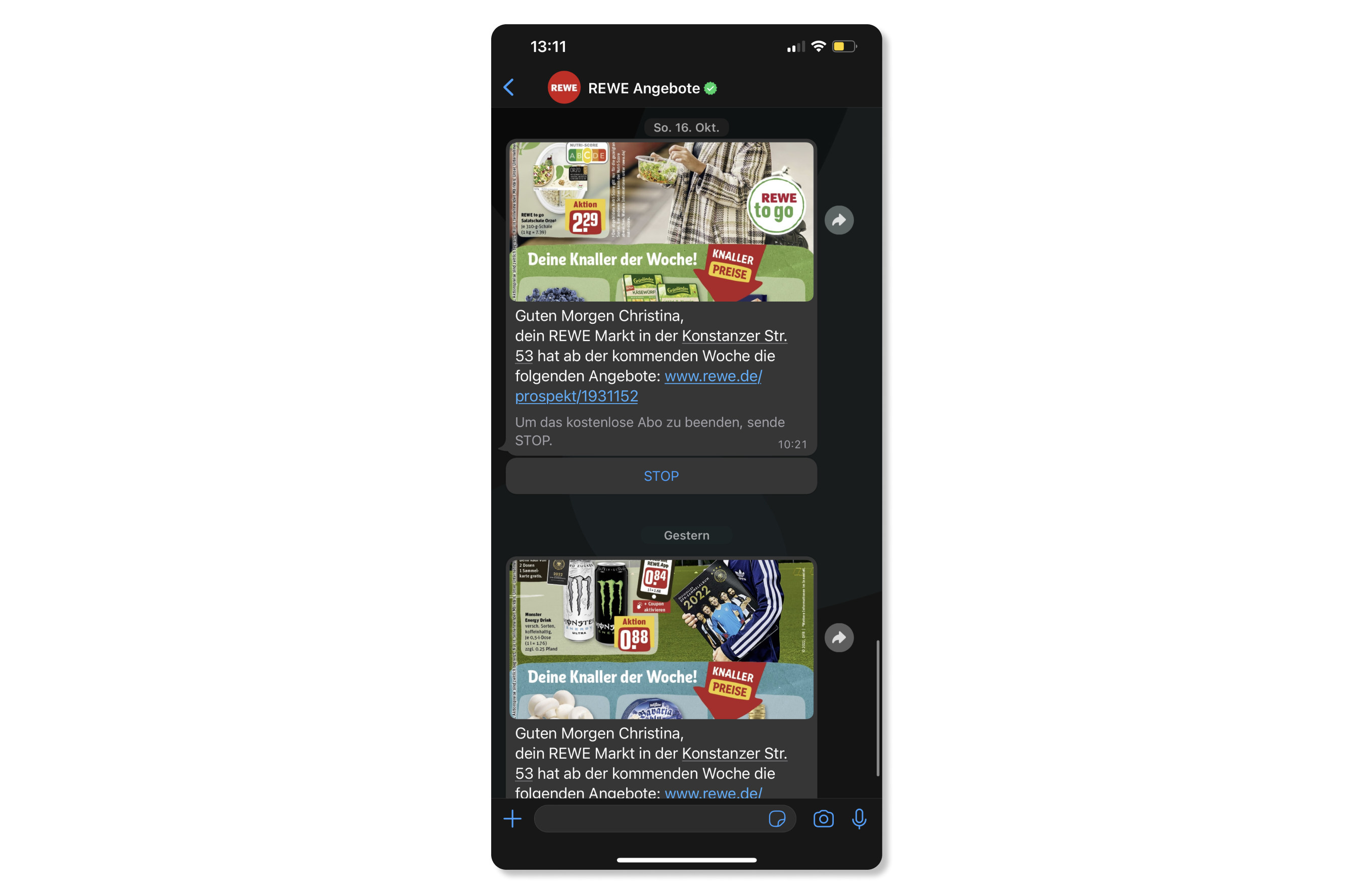 That's why we think the newsletter is great: In this newsletter, the focus is on personalization as well. Recipients are not only addressed directly, but also receive offers for the regional supermarket. When signing up, recipients are asked for their zip code. Rewe then searches for the appropriate store and sends the weekly offers digitally via WhatsApp.
WhatsApp Newsletter Example#5: Mein Schiffberater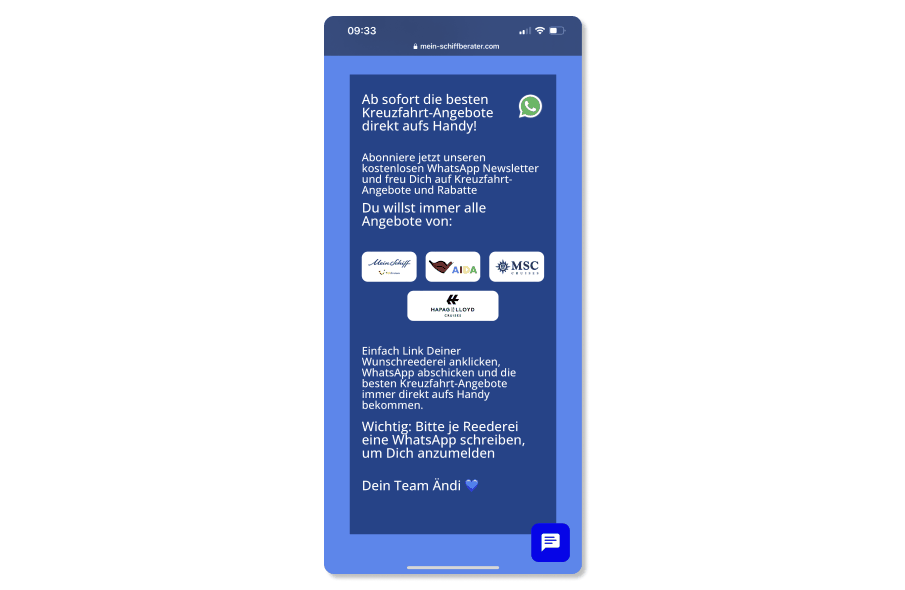 That's why we find the newsletter great: The company Mein Schiffberater uses Superchat and offers interested parties and customers several options for newsletter topics at once. Registration takes place via the homepage of the website.
With just one keyword, e.g. "AIDA", the recipient receives suitable offers and updates. Interested parties receive exactly the content that is relevant to them. In addition, the message includes transparent information on how to unsubscribe from the newsletter.
Send WhatsApp campaigns with Superchat
Superchat gives you the tools to digitise and modernise your communications. The messaging suite gives you access to the WhatsApp API, including functions such as the WhatsApp Business Newsletter. In no time at all, you can create WhatsApp templates, send campaigns and evaluate them.
In addition, you benefit from the universal inbox, which combines all important channels. This includes important channels such as Facebook, Instagram, Telegram, SMS and email.
The most important functions of Superchat at a glance:
All communication channels in one universal inbox.
WhatsApp Business GDPR-compliant & with multiple users
Sending newsletter messages directly via WhatsApp Business
Webchat widget for your website with different channels
Create message templates and out-of-office notes
Internally add notes to conversations
Manage and track online reviews
Workflow automations with Zapier and Superchat
Team Chat for internal communication
Would you like to use the WhatsApp Newsletter with Superchat and learn more about the messaging suite? Contact us easily and without obligation via WhatsApp.
Start using WhatsApp Newsletter right now!
Book demo