Niemiec is a digital insurer that focuses on a Polish-speaking target group. The company provides insurance to customers via WhatsApp Business and uses Superchat's messaging software and Universal Inbox to manage the entire sales process for their legal protection insurance.
The Managing Director, Andreas Niemiec, is always looking for ways to optimize his insurance agency and was instantly impressed by Superchat.
How Niemiec benefits from Superchat
GDPR-compliant use of WhatsApp Business with multiple users and devices simultaneously
Sales process management in the Universal Inbox, which has different inboxes for various customer types and contract levels
WhatsApp templates for quick and standardized communication with potential and existing customers
Internal team chat for communication and coordination
Enhancement of online reputation through Superchat's rating tool.
"We can map our entire sales process in Superchat's messaging software. We have a separate mailbox for each phase. This clarity enhances our workflow. Moreover, WhatsApp is a highly effective communication channel. We can reach potential and existing customers more easily and quickly."

Andreas Niemiec, Managing Director
Try out Superchat for free!
Sie möchten Superchat selbst entdecken? Erstellen Sie jetzt Ihren kostenlosen Account und erkunden Sie die Messaging Plattform von Superchat.
How Niemiec Uses Superchat
In Superchat's Universal Inbox, users can establish different mailboxes for various communication channels. The company uses this feature to map the entire sales process for legal protection insurance for private and commercial customers.
Individual mailboxes are created for each customer type and sales phase:
Central
Prospective customers
Offer phase private
Commercial offer phase
Application phase private
Commercial application phase
Telephone consultation desired
Contract in progress
Private customers
Commercial customers
All insurance coverage requests are first received at the central office and then distributed to the appropriate mailboxes based on the sales phase.
For communication, staff members use WhatsApp templates, created in Superchat's software. These templates simplify, accelerate, and standardize communication and can be reused as needed.
The most frequently used templates are:
Request for complete contact details, if not already available.
Description of the contract conditions, including a PDF, and a request for a callback to finalize the contract.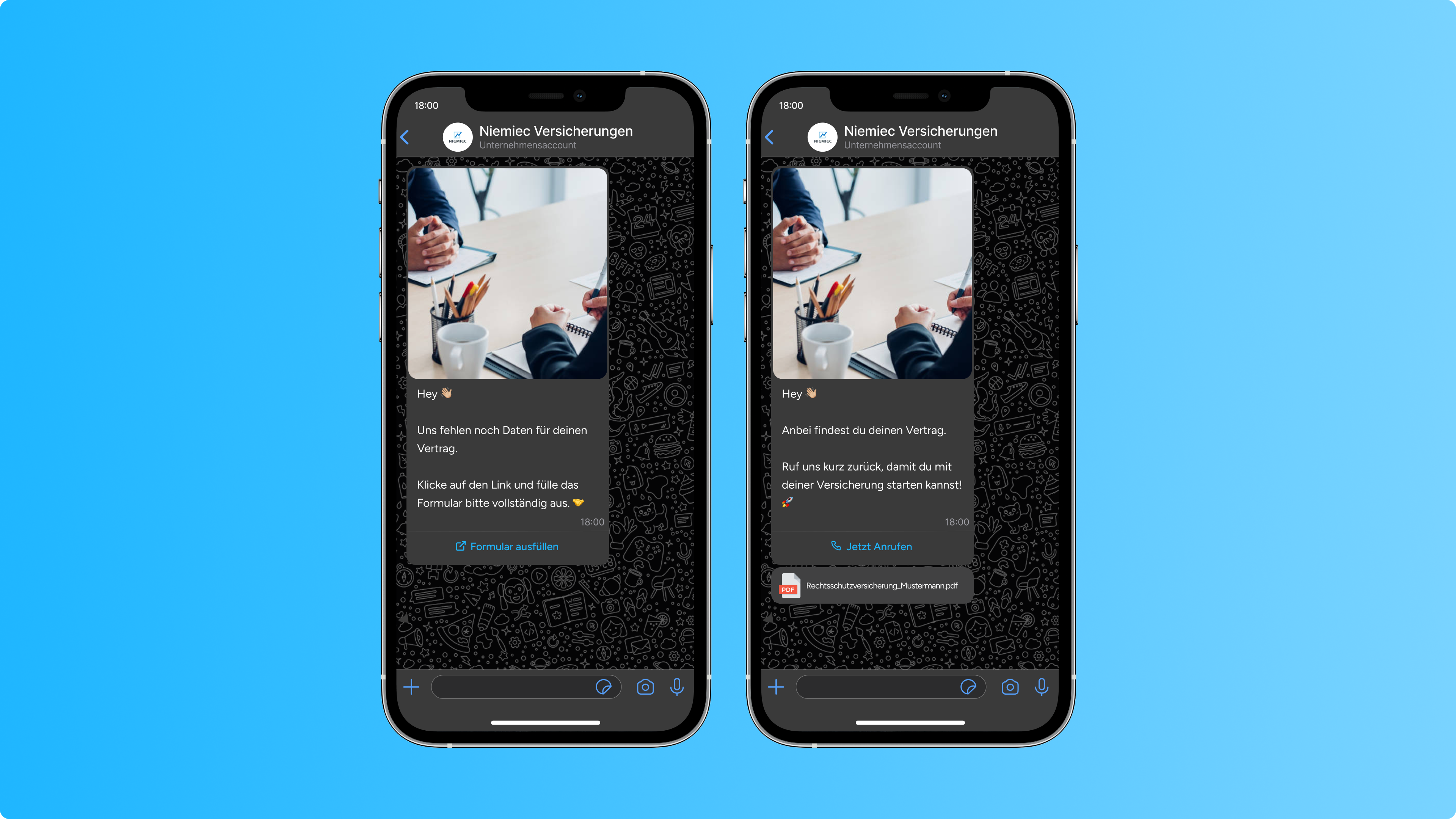 WhatsApp templates are equipped with building blocks, which users can manually fill with specific information before sending.
For instance, the contract price varies from customer to customer. Therefore, WhatsApp templates allow for quick and standardized communication, while remaining flexible enough to adapt to business processes and individual customer traits.
Enhance online reputation with Superchat's rating tool
Superchat's rating feature enables users to send requests for online reviews via WhatsApp, such as for a company profile on Google. Agencies can send these requests after a new insurance policy is signed.
Reviews scoring below 4 stars are filtered by Superchat. These reviews are initially visible only to the user, providing insurers like Niemiec the chance to address any issues and improve the review before it is published online.
WhatsApp Newsletter for cross-selling
At present, Superchat is exclusively used for selling legal protection insurance and offering associated customer service. However, this is set to evolve.
The company plans to use the WhatsApp newsletter to cross-sell other insurance products. Superchat's newsletter function allows users to reach a multitude of contacts at once via WhatsApp. A key factor for a successful WhatsApp campaign is personalization.
Niemiec employs Superchat's label function to categorize and better describe conversations and contacts. These labels can also be used to segment recipients for the WhatsApp newsletter.

Marketing Intern, Superchat
Maximilian is an intern at Superchat and supports the marketing team with various tasks. He also has a great passion for new projects.