As a family business, Augenoptik Enzinger operates two businesses in the Landau region, advising customers throughout the entire eyewear cycle. Using the industry software for additional digital touchpoints was no option for Andreas Enzinger, as it would require customers to install an extra app.
"I don't think our customers would download an additional app just to communicate with us. WhatsApp, on the other hand, is on almost everyone's phone."

Andreas Enzinger, Managing Director
With Superchat, Augenoptik Enzinger provides relevant contact channels for its customers, who can reach out via WhatsApp, Facebook, Instagram, and E-Mail directly from the website.
Universal Inbox: All Channels at a Glance
Andreas Enzinger no longer needs to log into each platform separately. The universal inbox combines all channels and simplifies communication.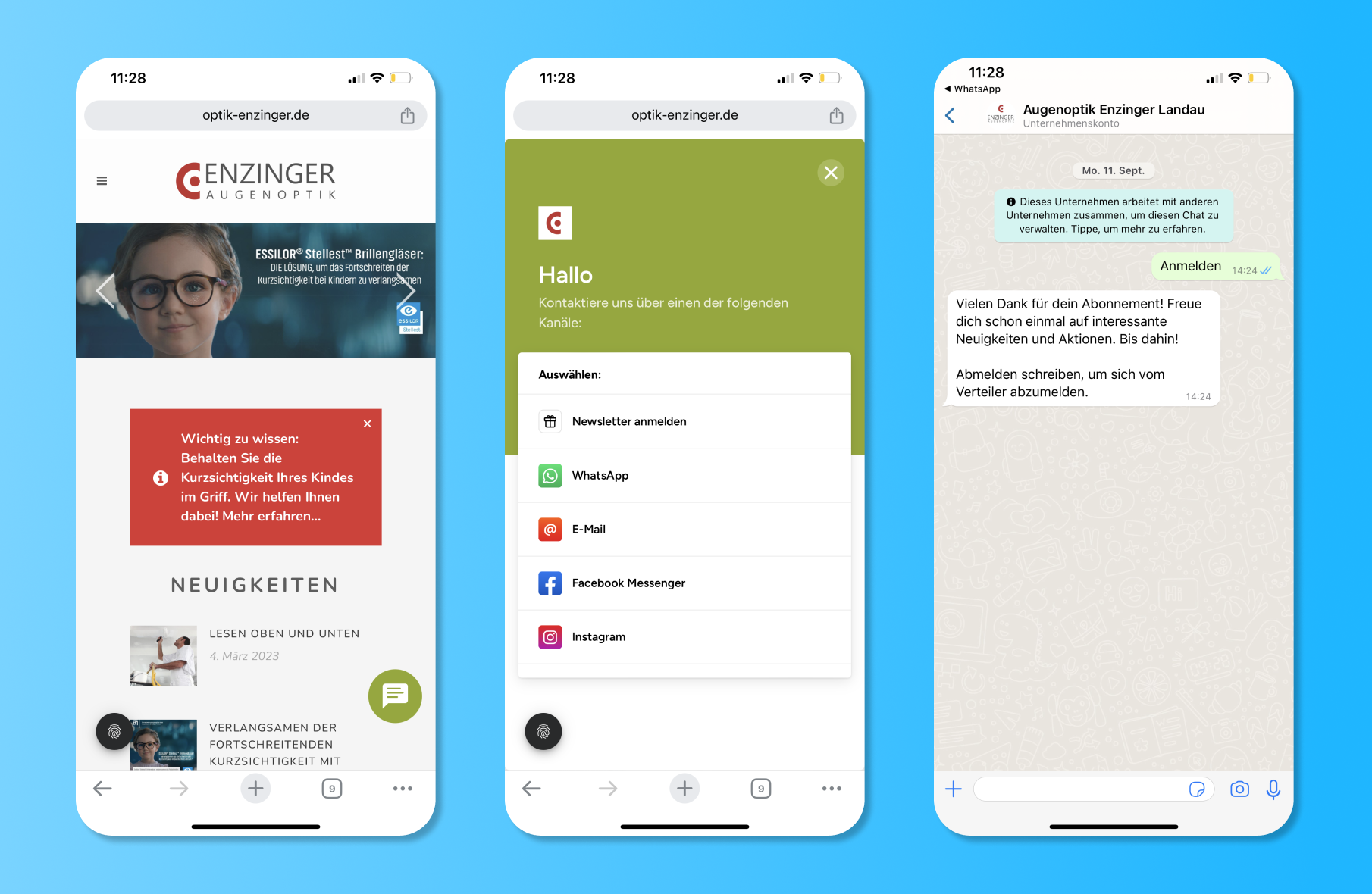 To make it easy for customers to reach out, a webchat was integrated into the company's website. In addition to WhatsApp and E-Mail, users can sign up for the WhatsApp newsletter.
WhatsApp is the most popular channel, especially for notifying customers when their glasses are ready for pickup.
"Once contact has been made via WhatsApp, it remains the preferred method of communication."

Andreas Enzinger, Managing Director
To provide a customer-oriented and personal experience, the store uses templates and customized messages for communication.
The Future of Opticians Lies in Messaging
The team at Augenoptik Enzinger sees potential in using WhatsApp for marketing, thanks to its wide reach, quick campaign creation, and elimination of paperwork. Unlike letters and postcards, a WhatsApp newsletter cannot end up in the trash.
By offering a modern and fast communication channel and using the universal inbox to keep track of all messages, Augenoptik Enzinger sets a positive example for customer service.
Do you want to use Superchat for your own business?
Sign up for free and try out Superchat by yourself!

Marketing Intern, Superchat
Maximilian is an intern at Superchat and supports the marketing team with various tasks. He also has a great passion for new projects.