The Allianz insurance agency Göppel OHG in Jena is a go-to for financial and insurance matters - from health insurance to auto insurance to construction financing and investments.
Christine and Sebastian Göppel, the managing directors, prioritize offering their customers what they need in an uncomplicated and understandable way. They quickly realized the potential of using messengers like WhatsApp for insurance and financial matters. DVL - digital.verkaufen.lernen supported this idea and told them about Superchat.
How Allianz Göppel benefits from Superchat
GDPR-compliant use of WhatsApp Business by 8 users across multiple devices
Convenient contact options for new and existing customers through their preferred channel via webchat
Increased turnover through standardized lead processing with WhatsApp templates
Consolidation and employee assignment of all incoming inquiries in the Universal Inbox
Enhanced team communication through notes and labels
Updates for the customer base through the WhatsApp Newsletter
Generation of authentic online reviews
"Superchat has significantly improved our customer service and the processing of new customer inquiries. We highly recommend it!"

Sebastian Göppel, Managing Director
Superchat Success Metrics
The successful use of Superchat is shown by the significantly increased conversion rate in lead processing:
285 leads were obtained via Facebook Lead Ads
Around 50 customers were equipped with 100 individual contracts through Superchat integration
Effective contact with leads generated about €10,000 in commission turnover and a cross-selling turnover of about €3,000
Advertising costs for Facebook Lead Ads were approximately €3,500 (Return on Investment ≈ 3.7)
Monthly investment for Superchat: 89 € (Return on Investment ≈ 12.2)
How Allianz Insurance Göppel Utilizes Superchat
Allianz Insurance Göppel uses Superchat to enhance the service for new and existing customers.
By bundling all communication channels in the Universal Inbox, and with labels and employee assignment, the right contact person is quickly identified.
Standardized lead processing via chat leads to quicker and more effective conclusions.
Maintaining an Overview with the Universal Inbox
Sebastian Göppel checks the Superchat account of his insurance agency every morning.
All inquiries from new and existing customers land in the Universal Inbox.
Chats are labeled. This allows inquiries to be sorted by new and existing customers, liability or auto insurance cases, or by priority.
To ensure the right contact person is always reached directly, chats are assigned to various employees.
Sebastian Göppel and his team keep track of all incoming messages through follow-ups and the done button. This ensures no message goes unanswered and new inquiries are addressed as quickly as possible.
Quick and Effective Conclusions through Standardized Lead Processing
By implementing a messaging workflow, Allianz Göppel conducts standardized and 100% GDPR-compliant lead processing.
One of the key topics for contacting prospects is children's dental insurance. When potential customers show interest in a Facebook ad on this topic, a simple yet effective messaging workflow begins.
Through the Zapier connection, automatic messages can be sent based on customer data. This enabled Allianz Göppel to increase the response rate for required data by 50%.
After an initial greeting message, customer data is collected via chat using WhatsApp templates.
Once all customer questions have been addressed, Allianz Göppel sends a chat confirmation that an offer is being prepared and will be mailed, requesting a receipt acknowledgment.
Ideally, the customer accepts the offer via chat. The agency then contacts the customer to offer an appointment for any remaining questions.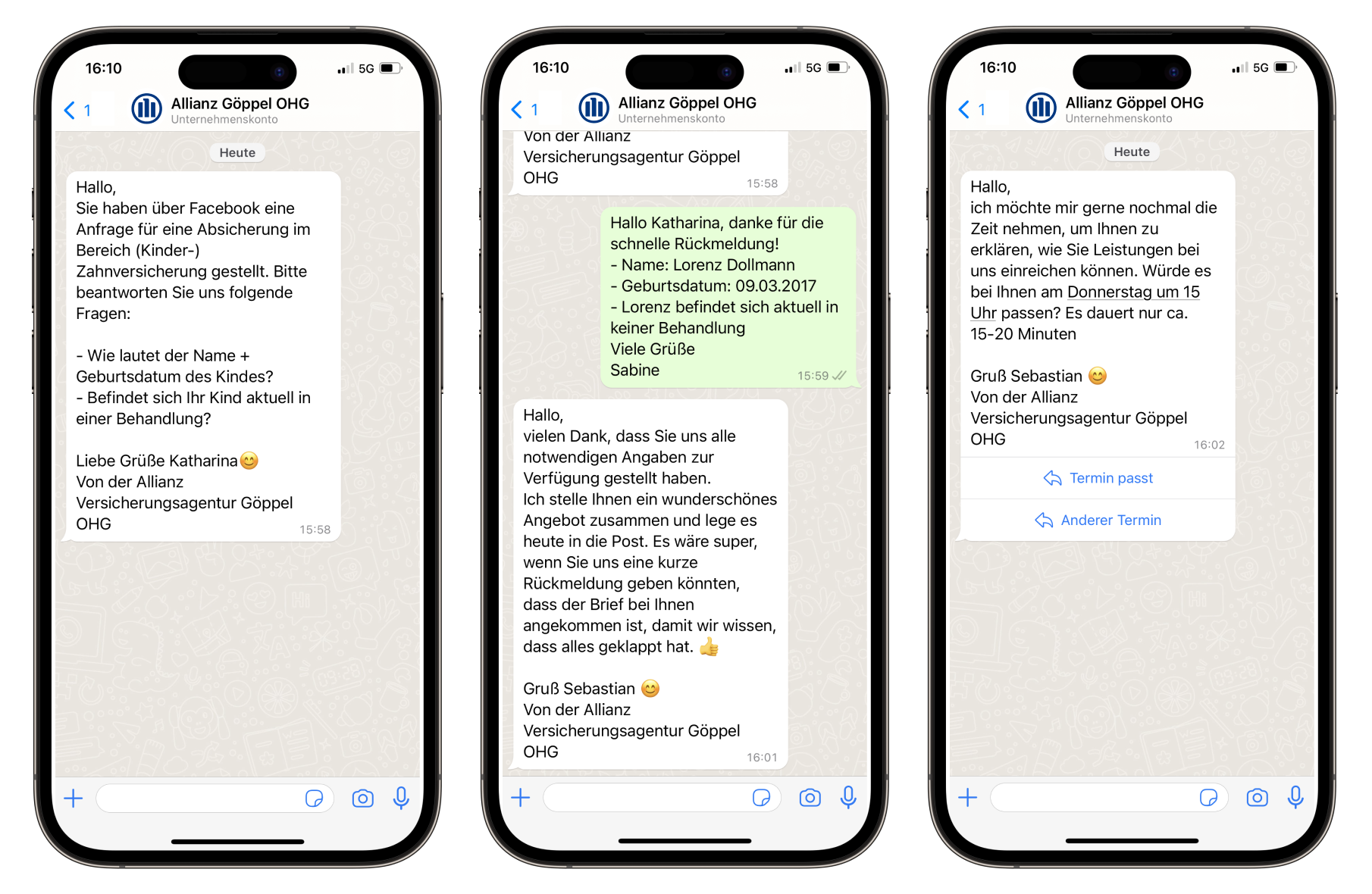 The customer can accept the appointment suggestion via chat or propose a new date.
In this way, Allianz Insurance Göppel interacts more efficiently with customers, significantly reduces the time from first contact to conclusion, and increases turnover.
Do you want to use Superchat for your own insurance agency?
Sign up for free and try out Superchat by yourself!

Marketing Intern, Superchat
Maximilian is an intern at Superchat and supports the marketing team with various tasks. He also has a great passion for new projects.