CODE University of Applied Sciences is a private university in Berlin. The University was founded in 2017 and offers various opportunities within the fields of software engineering, interaction design and product management. The academic focus is placed on digital know-how and innovation.
At the moment around 700 students are enrolled at the university and the institution is known for inspiring its students to start their own businesses. Apart from Superchat, other successful startups have emerged from CODE University including Kombo, RemNote and w3.fund, for example.
Since the target group of the university is young and digital-savvy, it's not surprising that the institution is focusing on digital communication channels.
Why Superchat was implemented:
Offering easy touch points to interested individuals
Combining relevant channels into one platform
Easy collaboration and communication in the team
Increased message volume with WhatsApp & Superchat
The most important touch point for students is the website. Instead of using inconvenient online forms, CODE University is offering a web chat. Via the website chat, applicants and students can choose the preferred contact option. Besides WhatsApp, the university is offering email and the option to make an appointment with a student.
Since implementing the website chat, our message volume has increased significantly. We get around 30 WhatsApp messages per day now, mostly via our website.

Omar Badawy, Marketing Assistant
The team heavily relies on WhatsApp templates. These templates make the communication process easy and efficient. Especially since a lot of incoming messages are about similar topics like admission. An interested person sends a request about admission, team members answer with the corresponding template providing the most important information. It's as simple as that.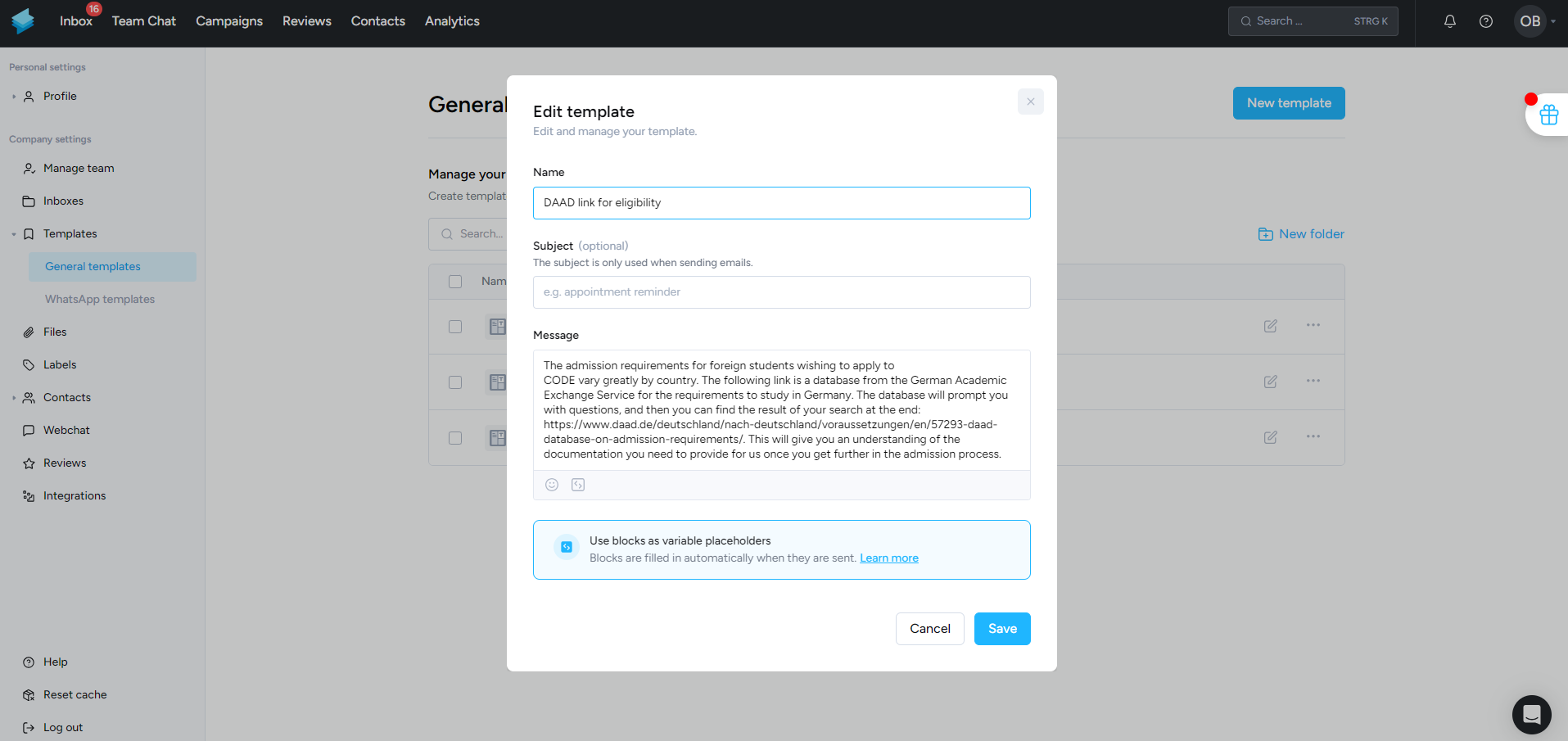 Superchat: The one-stop shop for communication & collaboration
At the moment around 8 team members have access to the messaging platform. To keep the inbox tidy, different collaboration features are used. Incoming messages are assigned to the appropriate team member right away. Labels like "application" or "admissions" are used to categorize chats. This allows everybody on the team to be in the loop.
Superchat does the job. The platform is intuitive, gives us the collaboration features we need and allows us to reply to messages within no time at all.

Omar Badawy, Marketing Assistant
As a result, the communication is much more organized. A tidy inbox, collaboration features and WhatsApp templates help the university to keep the standards of communication high. No matter if the team is chatting with interested students or enrolled students, everybody is receiving a cohesive and outstanding experience.
Since cluttered inboxes are a thing of the past, the team of CODE University can really focus on providing its students the best support via chat.
Give your students the touch points they want with Superchat.
Book demo