E-mail communication is tedious and slow
Consumers' expectations are continuously rising, especially when it comes to their own car. For many people, their own car is an important part of their everyday life. Service, communication and problem solving must be straightforward and quick. Regardless of whether it's about buying a car or maintenance.
"Our customers expect quick feedback, especially when it comes to the question of whether certain spare parts are available or not," says Carsten Fuths from the WAV car repair shop.
To meet customers' demands, many companies already rely on WhatsApp. The problem with the private version of WhatsApp and also the WhatsApp Business App is that only one account can be used from one device. On the one hand, the necessary transparency among colleagues is missing. On the other hand, neither option is GDPR-compliant.
Challenges that Michael Kay from grill sportivo automotive GmbH knows only too well. The master car mechanic wants to offer his customers an altogether optimised experience. In addition to on-site support and high-quality service, this also includes smooth digital communication.
"We want to provide our clients a swift consultation via WhatsApp. Due to the lack of GDPR compliance and the limited usage, the WhatsApp Business App was clearly not a feasible solution."

Michael Kay, grill sportivo automotive GmbH
A picture is often worth more than a thousand words. A proverb that is also true in the automotive industry. Especially concerning car damages or spare parts, pictures are commonly used. Even papers such as vehicle registration documents are sent digitally nowadays. Scanning, uploading and sending via e-mail is inconvenient and frustrating for customers and employees alike.
Another challenge is to encourage happy customers to leave a Google review. When it comes to buying a new car or repairs, trust plays a significant role. More than 90% of consumers read reviews before they buy something or use a service.
In the hustle and bustle of everyday work, it is often difficult to remind happy customers to leave reviews. Many car dealers and garages simply lack efficient processes to generate new online reviews.
"Online reviews are very important for our company. They have the power to determine whether a customer chooses us or another dealership."

Maximilian Hahn, AUTOflex24 GmbH
Here's why the automotive industry likes Superchat
Providing customers with easy communication and at the same time making internal processes more efficient. Goals that unite so many companies in the automotive sector.
To combine relevant communication channels and use WhatsApp GDPR-compliant in customer communication, companies like AUTOflex24 opt for Superchat. With Superchat, important communication channels such as WhatsApp, email, Facebook and web chat are bundled into one platform.
As a result customers have the choice over which channel they want to contact your company. You on the other hand have more control and a general view over incoming messages.
"We want to offer our customers the best and fastest service. That's why we chose Superchat."

Most messages arrive directly via WhatsApp
While email is still an important channel, it no longer meets the demands of modern customer communication. Consumers expect modern messaging channels, fast response times and easy transmission of documents or images.
Superchat helps car dealers and repair shops to redesign their customer communication. The universal inbox unites all important communication channels and allows multiple users to access it. With the mobile app, every employee, whether in the workshop, in sales or in the warehouse, has access and can jump in to help with important questions on specific topics.
Pictures, documents or files are saved in the customers' data with the drag-and-drop function. Clients can send documents directly via WhatsApp and do not have to scan and upload files to an email. You have all important information and data bundled in one place.
WhatsApp is one of the most crucial communication channels for Carsten Fuths from WAV. According to his own information, more than 90 percent of his customers use WhatsApp to contact him. With the WhatsApp Business API, the company's employees now use the messenger in a GDPR-compliant and legally secure manner with multiple users and from various smartphones. This is how the company guarantees smooth communication at all times.
"Superchat allows us to engage with our customers from the first touchpoint, through the buying process and well beyond."

Maximilian Hahn, AUTOflex24 GmbH
AUTOflex24 successfully uses WhatsApp in the sales process. Leads are approached more quickly via messenger and appointments are arranged immediately. After a successful appointment or purchase, the employees use the messenger for a personal follow-up. Afterwards, an evaluation reminder with a Google review link is sent. The result is a modern and individual customer experience.
A company's image is just as important as smooth communication and advice. Positive reviews on Google are a key element in building trust with potential customers.
With Superchat, you effortlessly send review invitations to happy customers via the channels they actually use on a daily basis. A Google review link directs customers straight to your Google Business profile. The grill sportivo company was able to collect numerous new positive reviews within a short period of time.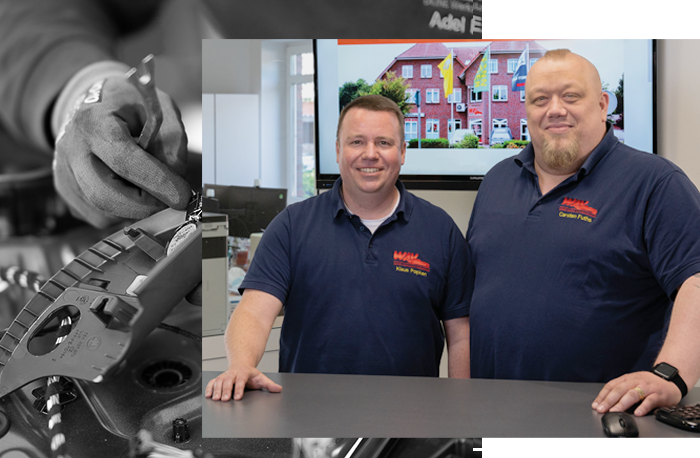 Interesting read 📣
Read the full story 👉 The detailed success story: How WAV uses Superchat in everyday business life
Reach pole position with modern customer communication
Successful companies including grill sportivo, WAV and AUTOflex24 are already relying on Superchat, paving the way for a digital future of customer communication.
The universal inbox provides the necessary overview and efficient work processes for the team. The use of messenger channels will personalise communication and speed up the response to customer enquiries. After all, the opening rate of WhatsApp messages is around 4 times higher compared to email.
With Superchat, you form a direct and fast connection to your target group. A cornerstone for a long-term and strong relationship with your customers. These loyal and happy customers are the best advertisement for your company.
Is Superchat a good solution for you?
Customer enquiries reach you via a multitude of channels and you and your team are slowly losing track?
Are you concerned about GDPR-compliant customer communication, e.g. WhatsApp?
Would a closer customer relationship offer additional opportunities for revenue?
Are online reviews relevant to you, but so far you have not managed to implement a process that works permanently?
Do you answer at least one of the questions with yes? Then book a free consultation appointment with a messaging expert for the automotive industry directly.

Christina is one of our messaging experts and content specialist at Superchat. Besides communication and marketing related topics, she has an excellent knowledge of the Berlin food scene.